When your website is under construction or in maintenance mode, you might need a landing page showing on the front end to help retain customers and visitors.
WordPress has a built-in maintenance mode that will automatically activate when you update WordPress, themes, or plugins on the website.
In cases where you're changing styles or rewriting codes of WordPress, or just want to temporarily disable your website, this built-in function, however, may not meet your actual needs.
This is why I create the ultimate list of the 10 Best and Full Free WordPress plugins to help beginners create professional, beautiful, and customizable Under Construction, Coming Soon, and Maintenance Mode pages on your website.
Originally Published July 09 2020, updated Apr 15 2022
Total downloads: 1,000,000+
Five Star Ratings: 4,430+
A WordPress Website Builder, which allows you to create custom theme and template parts like Headers, Footers, Front Pages, Content Pages, Blog Posts, Blog Pages, Archives, Search Results, Category Pages, Tag Pages, Sidebars, WooCommerce Product Pages, WooCommerce Checkout Pages, WooCommerce Cart Pages, WooCommerce Shop Pages, Landing Pages, Coming Soon or Maintenance Mode Pages.
Features:
WordPress Theme Builder – Create Headers, Footers, Pages, Posts, Archives, Sidebars, WooCommerce Pages or any part of a WordPress theme with our no-code Theme Builder.
Fast Drag & Drop Page Builder – Our page builder is super fast, lightweight and responsive.
WordPress Themes created with SeedProd work with any page builder.
Landing Pages work with any WordPress Theme.
200+ Professionally Designed WordPress Themes, Landing Page Templates & Layout Sections
80+ Pro Page Blocks – We have created a variety of blocks to display static and dynamic content.
Landing Page Templates – Sale Pages, Coming Soon Pages, Maintenance Mode Pages, Webinar Pages, Giveaway Pages, Thank You Pages, 404 Pages, and Login Pages
Responsive and Mobile Ready – Pages created with SeedProd look great on any device.
Premium Integrations – Collect emails with your favorite 3rd party email marketing service providers, including MailChimp, ActiveCampaign, ConvertKit, Constant Contact, and more…
Subscriber Management – Track every subscriber with or without a 3rd party email provider.
Stock Images – Get In-Plugin Access to over 2 Million Stock Images. Searchable, Resized, and Optimized for the Web.
Live Previews – We allow you to see live previews of the page while it's in any state, draft, live, or just testing.
Layout Navigation – Use our layout navigation, which is a mini-map of your page, to easily rearrange sections, rows, columns, blocks, or access your page settings
Revision History, Undo & Redo – With one click reverts, you can go back to any previously saved point on your page and even see who made those particular changes.
Draft Mode – Work on your page in private without revealing its construction to the public.
Mobile Device Preview – See what your pages will look like on desktop and mobile devices before you go live.
Bloat Free Code – The code our builder produces, unlike other builders, is bloat-free and minimal to load your page quickly.
Color Schemes – Choose from over 20 built-in color schemes or create your own custom color palette to use throughout your landing page design.
Font Combinations – SeedProd integrates with Google Fonts to provide unlimited font combinations.
Custom CSS – Need to tweak the style of an element on your page? No problem!
Domain Mapping – Domain Mapping lets you create landing pages and point them to any domain name instead of your main website domain.
Dynamic Text – Dynamic Text lets you dynamically insert dates or values from a query parameter to personalize your landing pages.
Custom Scripts – Need to add a tracking script or widget from another website? Use the built-in header and footer scripts area to implement more technical tweaks.
Spam Protection – Protect your landing pages from spam, bots, and fraudulent submissions with Google ReCaptcha
---
Total downloads: 700,000+
Five Star Ratings: 770+
The plugin allows you to close the website for maintenance, enable "503 Service temporarily unavailable", set a temporary page with authorization, which can be edited via the plugin settings. Easy customize the good look on all devices. Add your logo, background image, select the desired color, add text.
More Features:
retina ready HTML/CSS layout
Full-screen background
Blur background effect
Upload your own logo
Configurable colors: fonts, icons, background
Customize title, headline, text
User login on frontend
Admin bar status
503 error on/off
Google analytics support
Exclude selected pages from Maintenance mode
Support for all popular caching plugins
---
Total downloads: 600,000+
Five Star Ratings: 1,200+
A simple, no-nonsense under construction plugin for all those situations when you have to hide the site behind an Under Construction page for a while.
More Features:
Under construction mode
Automatic End date & time
Google Analytics Tracking ID
Custom CSS
Custom Title, Description, Headline, and Content for better SEO
Collect leads and emails and sync with MailChimp and other autoresponders
Login Button
Social icons/links
Whitelisted users by User Roles
---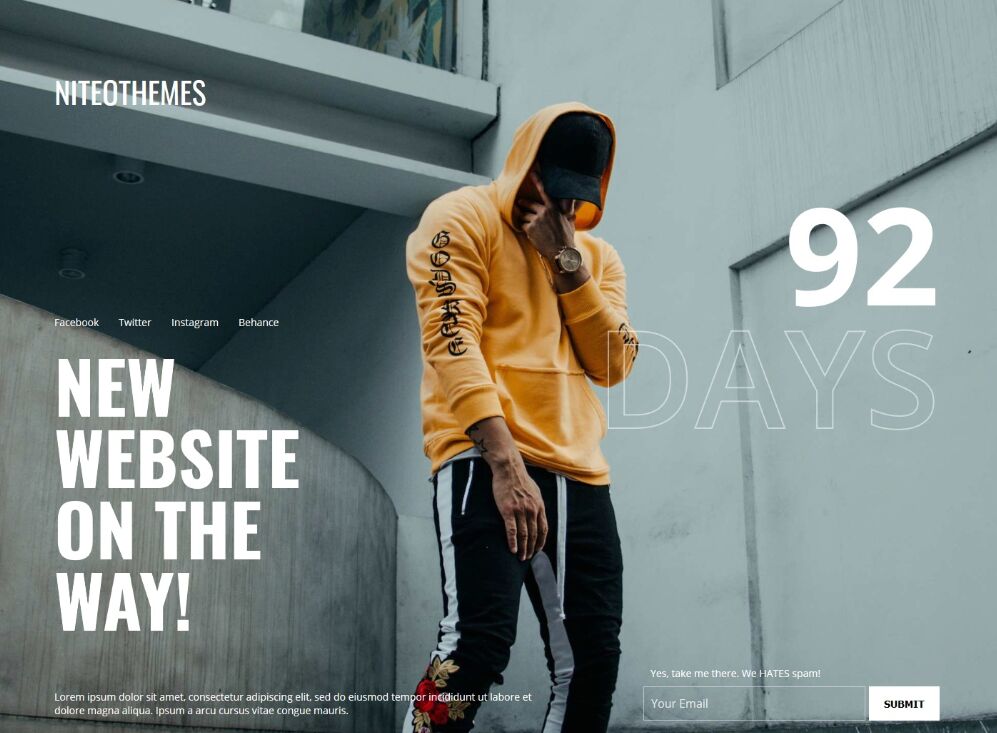 Total downloads: 200,000+
Five Star Ratings: 200+
A super fast and user-friendly Coming Soon & Maintenance Plugin for WordPress. You can activate your Maintenance, Coming soon(under construction) or a Landing page with a single click.
Features:
You can choose from 3 bundled free themes and 20+ downloadable themes – both freebies and premium – with completely different design. New CMP Theme is released every 1-2 months!
CMP plugin works with any WordPress Theme and on all desktop and mobile devices (yes it is 100% responsive!).
Custom Subscribe Form to collect E-mails in local database, MailChimp, MailPoet or Mailster.
Set fullscreen background media including Videos (YouTube, custom video file), Images or Image Slider, Patterns, Color Gradients or Solid Colors with a graphic overlay.
You can search from more than 1.000.000+ of free beautiful professional photos from most popular Unsplash source via our built-in search API (random images, search by keyword, category, etc).
You can set custom Logo, choose from 100 most popular Google fonts and customize Font Weight, Letter Spacing and Line Height.
Display beautiful icons for any Social network on your website.
Background 3D effects on all downloaded CMP Themes.
CMP Landing page can be enabled on specific pages only (Blacklist and Whitelist) if required.
WordPress roles to bypass CMP and display your full website for logged-in users.
Bypass URL to preview a website for your customers.
WPML and Polylang is fully supported to display your awesome Coming soon page in more languages.
All strings are Fully translatable.
Display Login Icon Button on Coming soon pages.
Compatible with custom WordPress login URL.
GDPR ready.
Configurable Countdown Action – disable Coming soon / Maintenance mode, Hide counter or redirect to another website.
Configurable SEO meta tags for search engines, editable favicon, Search Engine Visibility and No-cache Headers.
Set response code to search engines (200 OK, 503 Maintenance).
Redirect Mode to redirect your website to another website.
Support for any website Analytics like Google Analytics or similar.
Subscribe feature protected by Google Recaptcha integration.
Insert any Custom CSS code.
---
Total downloads: 80,000+
Five Star Ratings: 100+
A simple under construction plugin that shows a landing page only for unlogged users
---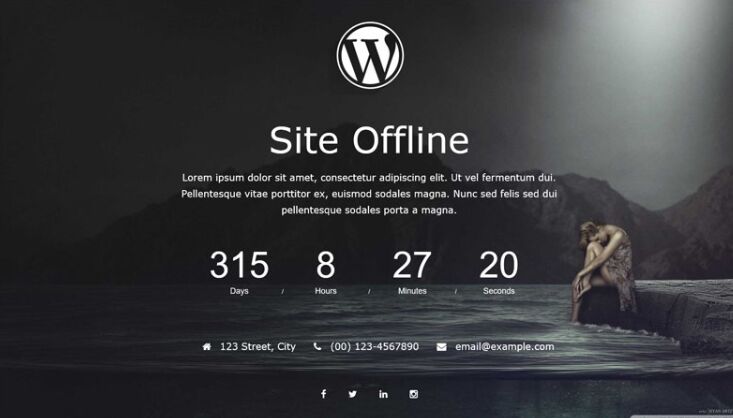 Total downloads: 40,000+
Five Star Ratings: 330+
A WordPress plugin that provides Site Offline Or Coming Soon Or Maintenance Mode templates with countdown timers on your website.
Features:
Turn On With A Click Of A Button
Responsive Design
Clean Retina
Build with Bootstrap
Html5 supported
Works with any WordPress Theme
Css3 Animations
Countdown Timer
Logo customization
Background Image Supported
Unlimited color Scheme
Contact Info Display Option
4 Social Profile Integrated
Flexible and user-friendly setup
Live Preview option
Clean and well documented
Translation Ready, i18n Support
Easy disable the section that you do not need
Cross Browser Support
---
Total downloads: 30,000+
Five Star Ratings: 120+
A simple and easy to configure Coming Soon Landing Page plugin with the best available features and customizable options.
Plugin itself is packed with 5 Responsive Landing Page templates with social media icons, custom HTML blocks count down timer to show the date and time of website launch etc.
Features:
Customize, Content,Colour,Background etc…
Auto Launch Option Available
Subscribe Optin form to collect visitor emails
Social Media & Google Analytics Integrated
Countdown Timer Support
SEO Configuration.
GDPR and Privacy Policy Options.
Advanced Access/Restriction Settings.
Custom HTML Page Support
---
Total downloads: 30,000+
Five Star Ratings: 120+
A simple and clean maintenance mode plugin for WordPress.
Features:
Simplicity – Built to be as simple as possible. Easy to use.
Customisable – WYSIWYG available in full glory. You can add images and other media including links and pretty much everything you can do with WYSIWYG. Text / Code tab is available too for custom markup.
Works on mobile – Because of it's simplicity, maintenance mode works very well on mobile devices.
NO ADS – No ads. Seriously.
NO PAID UPGRADES – No paid upgrades. Seriously.
Updates – Regular updates and maintenance.
Support – Support button available.
Preview – Preview button available.
Compact – It's developed to be as compact as possible.
Role Control – User Role control is available since 2.0
Optional widgets – Optionally add widgets above and/or below the content
Optional style sheet – Optionally add a custom style sheet
Optional ability to add code snippet – Optionally add a code snippet to the page.
Support for Analytify plugin – If you use the Analytify plugin, you can automatically insert the Google Analytics tracking code.
---
Total downloads: 20,000+
Five Star Ratings: 160+
Simple and easy to setup Coming soon, Under Construction and Maintenance page plugin will help you in creating amazing and animated Coming soon pages with all the needed features.
Coming Soon and Maintenance Mode plugin features responsive design and will adapt to any device. You can setup background slider with overlay pattern and opacity. Easily alter animated text on the coming soon page and use the built in count down timer, subscription form and more.
You can activate or deactivate any section of the page, select Google Fonts and have all like premium features for FREE.
Features:
Responsive and modern coming soon page design
All section editable from plugin options panel
Countdown timer
Animated coming soon text messages
Background slider with pattern overlay and opacity
16 Background slider animations to choose from
Solid color background mode
Option to turn on/off any section
Preloader
Live Preview (you can preview your Coming soon page without the need to log out or use another browser)
300+ Google fonts
Font icons included
Built it Subscription form
Option to add MailChimp or any other Sign-up form to the coming soon page
Coming soon admin bar notification
Translation options included
---
Total downloads: 10,000+
Five Star Ratings: 230+
A WordPress coming soon plugin to perfectly manage your coming soon, under construction website, under maintenance mode website and offline website.
Features:
Turn On With A Click Of A Button
Responsive Design
Clean Retina
Build with Bootstrap
Html5 supported
Works with any WordPress Theme
Css3 Animations
Background Image Supported
Unlimited color Scheme
Contact Info Display Option
4 Social Profile Integrated
Flexible and user-friendly setup
Live Preview option
Clean and well documented
Translation Ready, i18n Support
Easy disable the section that you do not need
Cross Browser Support
---
Wrapping it up
Imagine your website being down and you're unable to receive traffic, bounce rates are high, search engine crawlers are unable to index your content, and your social media presence is also down. With a functional maintenance mode or under construction page you'll leave your users knowing that you haven't abandoned them.
If you're looking to create a simple, no-frills Under Construction page for your website, then this is the guide for you. While not every plugin will appeal to everyone or be appropriate for every situation, it's important to note that each of these recommendations comes from a reputable developer who has made a solid product.