Cursors are an important element in web design that most people don't give enough attention. We think of them as just contributing to the texture of the website. However, custom cursors play a vital role in aiding the text and design communicate with users in an efficient manner.
When it comes to WordPress, you can make your website much more engaging by adding a custom cursor. In this article, I'll show you 7 of the best WordPress plugins for creating custom cursors and other mouse pointer effects!
The best thing about this collection is that the custom cursor plugins are completely free to do! There are many different types of cursors you can choose from, such as the standard arrow pointer or a hand. You can even use an animated GIF for something unique; just make sure it's under 100kb in size or it won't work properly.
1. WP Custom Cursors
WP Custom Cursors is a WordPress plugin that enables the integration of custom cursors. The Plugin is packed with a set of ready-to-use HTML/SVG cursors. Besides that, you can also upload your own image cursor.
The cursors are customizable through width, color, blending mode, hover effect, etc. You can apply the cursor on any page/any section that you would like to. You can also have multiple cursors on the same page. Installation, configuration, and usage are very simple and fully documented. With version 2.2 the performance is highly optimized and many new options added.
---
2. Mouse cursor customizer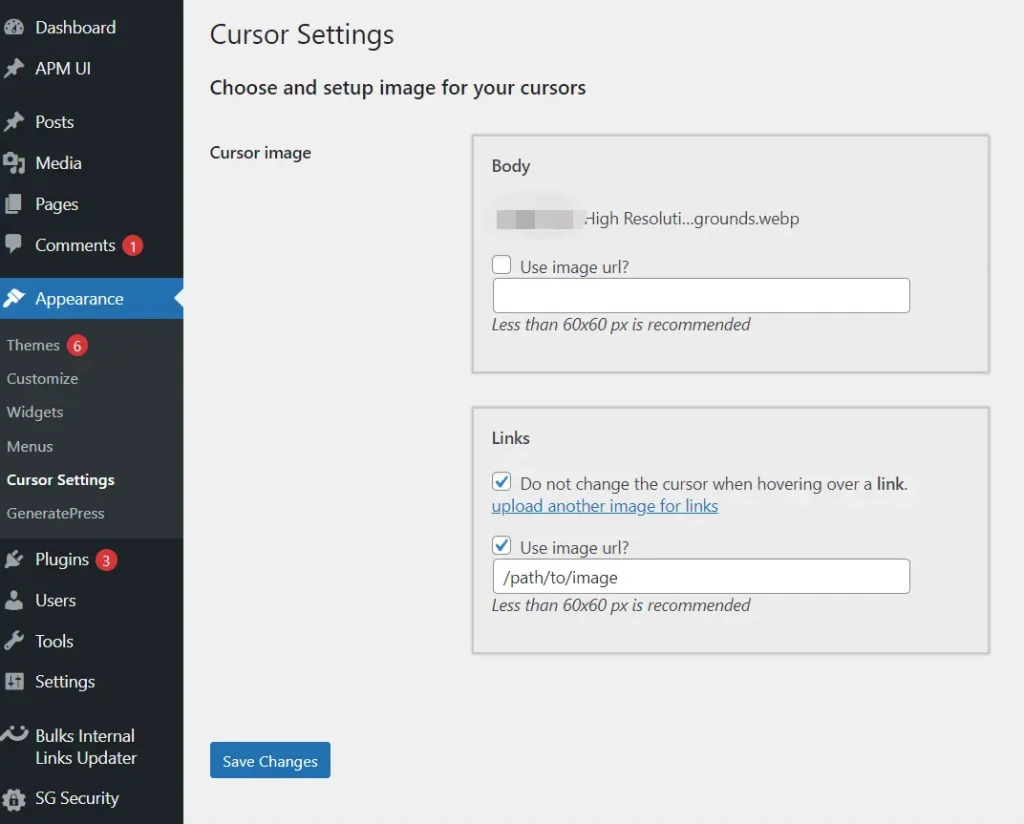 By installing this plugin, you can change the cursor to an image in png, jpg, or jpeg format. You can use different images for the entire document, and another image for links or buttons. The setup process is simple. Install the plugin then in Appearance-> Cursor Settings select the image for your cursor and upload it. Remember that the image should not be too large to cover the content or too small and invisible.
You can specify in the settings whether the cursor for links and buttons will change. You can customize a single image and its size for links, buttons, or the entire document. You can also adjust the cursor so that it does not change.
---
3. Custom Cursor For WP
This WordPress plugin helps you to customize your WordPress website cursor or mouse pointer and It's very easy to use. You get a variety of cursor options to choose from like the animated cursor, WordPress dash icon cursor and even you can add your customized image as a cursor as per your choice.
---
4. Ultimate Custom Cursor
Using Ultimate Custom Cursor to customize your website cursor or mouse pointer, you will get a very elegant and unique site. You can change colors, selectors, etc from this settings page.
Features:
Simple installation & activation
Unlimited colors.
Lightweight.
Enable/Disable Option.
Easy Option Panel.
All Modern browser supported
---
5. WP Mouse Custom Cursor
Beautiful Mouse Cursor Ball Animation For Your Website. No need to edit settings or do something else. Only Plugin activation is enough to bring change for whole website.
---
6. Beautify Cursor
Beautify your cursor style based on the wide variety of icons available. You can also choose it for Link or Input focus as well.
---
7. Hura Custom Cursors
A WordPress plugin that provides 100+ custom cursors to make your site more appealing.
---
Conclusion
We hope this article was helpful in helping you find the best custom cursor plugin for your WordPress website. There are plenty of different options out there, and we've listed some of our favorites above. If none of these are quite what you had in mind then we suggest checking out our full directory of WordPress plugins for more inspiration.