A collection of 7 best and free text animation plugins to add cool text effects to your WordPress websites.
In the world of web design, it's no longer enough to have a great-looking website with just clean and professional designs. Now there needs to be something more — something that makes your website stand out from the crowd.
One of those things is text animation. Not only does it make your content more engaging, it can also make your readers return to your website time and time again. Sometimes you need a WordPress plugin to create these effects which is why this post exists.
In this post, we collected some of the best free text animation & text effect plugins for WordPress available on the internet. These animations & effects can be added to any texts such as titles, banners, navigation menu, content, and any other texts you wish to add.
By adding animations and effects to text by using the following plugins, you can attract users' attention. You'll also be able to convey your message faster than usual because your audience will want to read them intently once they see it moving and talking on a website.
1. Typing Effect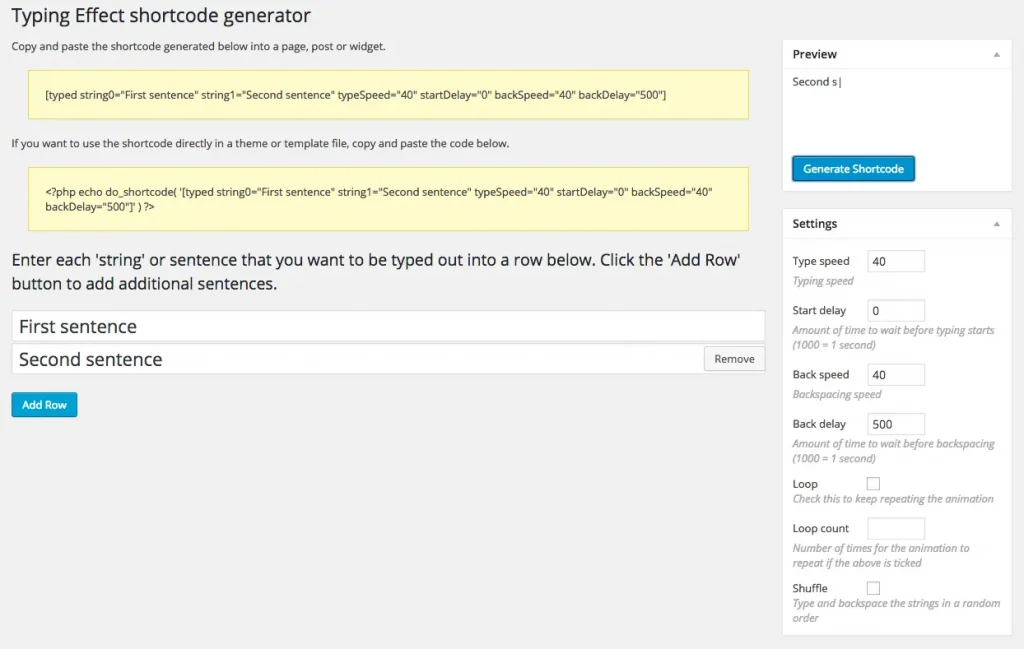 Typing Effect allows you to generate a shortcode that will 'type out' words on to a page or post, in a widget or directly in a theme or template file. The plugin is based on the Typed.js typing animation script by Matt Boldt.
Simply add your words or sentences, click 'Generate Shortcode' and copy and paste the shortcode into a page, post or text widget.
You can also configure settings such as how quickly the typing effect takes place, delays before starting or backspacing, set the animation to loop repeatedly or randomise the order your words or sentences are typed out and deleted.
---
The plugin allows you to add animation to any text using shortcodes in posts, pages or site widgets. You can also use PHP code to add text animations directly in theme files.
It fully utilizes the capabilities of the Textillate.js script and is very easy to use – you don't need to spend time including scripts and style files. Just create a shortcode with the necessary animation and paste it into your post.
---
3. Animated Rotating Words
The plugin allows users to add multiple words in a sentence that will change randomly with CSS3 animation effects.
You can add multiple words in a sentence and make them change after several intervals of time and change will take place with the CSS3 animation effect. It also contains typing effects which are the best among all. You can set animation speed and add unlimited words that would replace each other after an interval of time with attractive animation effects.
Words change with animations with intervals of time. This plugin could be useful to show multiple features in just one sentence.
It also includes typing effect which used the typed.js library to create a beautiful typing effect. The plugin has a very easy user interface for the end-user. You just need to add a sentence and a list of words that you want to animate and create a shortcode and use it anywhere you want. You can also use it in the widget area.
---
4. Animated Typed JS Shortcode
Create an animated typing effect with Typed.js easily. No settings needed just plug and play.
Just install and activate, the Animated Typed JS Shortcode plugin and you can start using [typedjs][/typedjs] shortcode to create your animated typing text.
---
5. Animated Text Block
A fully Customizable WordPress plugin (Gutenberg block) that allows you to display text or paragraphs as animation.
---
A simple WordPress plugin for animating text or images in your posts, easily create beautiful posts with animations.
---
7. Neon text
The neon text WordPress plugin allows you to create shortcodes to customize your pages and posts with neon text effects. The shortcode generator helps you through the options for the shortcode.
---
Conclusion:
In summary, text animation plugins are a great way to enhance any WordPress website. Whether it be for use on the homepage, or just as a subtle piece of content with a nice little effect that brings focus and attention to the content.
But remember, even the best plugins can only work if the font and color you choose to use are readable. For example, don't use a plugin to make your font large and bright green; it just won't work – unless your viewers can't see color!