Import Markdown is a WordPress plugin which helps you quickly generate posts or pages from Markdown files you upload.
Features:
Simple to use. Just upload and import your Markdown file and done.
Compatible with Gutenberg editor.
5 built-in Markdown parser: Parsedown, Parsedown Extra, Cebe Markdown (Traditional), Cebe Markdown GitHub and Cebe Markdown Extra.
HTML5 output.
Allows to convert all the newlines into <br> tags.
Allows to keep the number in the ordered list specified in the Markdown.
How to use it:
1. Install & Activate the 'Import Markdown' plugin the way you like. The fastest way is to search and install the plugin from your admin panel.
2. Click the 'Options' on your sidebar menu to config the plugin. Possible options:
Post type.
Required capability.
Markdown parser.
HTML5 or HTML4 output.
Keep the number in the ordered list.
Convert newlines.
3. Click the 'Import' link to import your Markdown file. Choose a Markdown file (.md .markdown .mdown .mkdn .mkd .mdwn .mdtxt .mdtext .text .txt) to upload, then click 'Upload file and import'.
4. That's it. The plugin will automatically create Posts or Pages from Markdown files you just uploaded.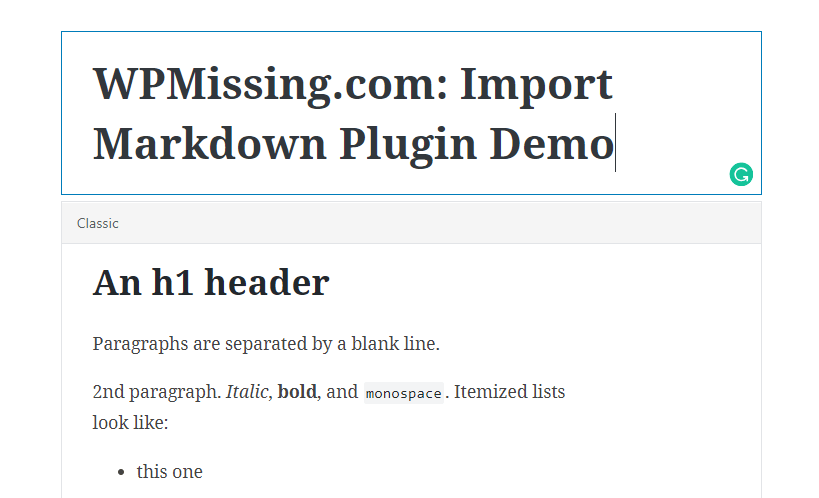 Download WordPress Plugin:
You can download this free WordPress plugin using the download button below. Unless otherwise stated, the WordPress plugin is available under GNU General Public License.
Author: DAEXT
Homepage: https://wordpress.org/plugins/import-markdown/
Don't forget to share this WordPress plugin and also check out other awesome plugins on our site.