COVID-19 is currently a global health crisis and has caused more than 5 million infections and more than 300,000 deaths in the past few months (May 28, 2020).
To raise awareness about COVID-19 without increasing fear, we created a special list that will help you insert COVID-19 information (confirmed cases, deaths, recovered patients) into your WordPress website quickly. Have fun.
Originally Published Apr 21 2020, updated May 28 2020
Table Of Contents:
COVID-19 Stats:
This plugin displays the Coronavirus ( Covid19 ) case data of the whole world and country you care through a shortcode in your WordPress post or page.
---
Free live data shown on your dashboard and via shortcode or widget.
Show up to date confirmed cases or deaths in your country or globally. The plugin will also add a helpful link in the top toolbar to quickly get more info. There's also a widget that you can add to your footers or menus.
---
This plugin displays the COVID-19 real-time data, top-headline news, job and finance impact, quantitative geographical mapping and forecasting through shortcodes in your WordPress post or page.
---
A WordPress plugin for live tracking COVID-19 (coronavirus) on the world and each country.
It supports many types of layout for showing data: simple, chart, table list, global and selected country, tab list, live map.
It allows you to show Corona statistics via shortcode, widget and Elementor element. You can manage styles for each type very easily.
---
A WordPress plugin to display Novel Coronavirus (COVID-19) outbreak live Updates in WordPress page/posts/widgets section.
With the help of a simple shortcode, You can display worldwide or country specific data of total infected, deaths and recovered cases of coronavirus inside your WordPress website in a card layout.
You can also create specific country based data cards. This plugin also provides you Elegant all countries stats table.
---
Live statistics tracking the number of confirmed cases, recovered and deaths by country or global due to the COVID-19.
---
The plugin uses a shortcode to embed a COVID-19 live map into your WordPress website.
Features:
Real-time update the number of confirmed cases, recovered and deaths.
Shortcode flexible, allow display everywhere in your site.
Display All Countries.
Flexible customize title and description.
Optimized speed.
---
Display the latest COVID-19 data of the whole world or any country you care about on your website.
Easy to implement via shortcode. Based on the NovelCOVID API.
---
Yet another COVID-19 stats plugin to show the COVID-19 Stats on their blog to spread awareness.
Can be placed anywhere on the WordPress via a shortcode.
---
WP Covid-19 Data is a plugin which can be used to COVID-19's data such as confirmed, deaths and recovered cases by country.
---
The Corona Update plugin displays live COVID-19 data and adds a custom Awareness popup to your website.
---
With this plugin, you can simulate the outcome of a pandemic, using your own input parameters. The plugin generates charts and tables for better understanding of generated results.
You can embed tables and charts with the prediction of the evolution of the spreading of a global or regional pandemic. – It can also use iframes to automatically embed dashboards from WHO and Johns Hopkins, to track in real time the progress of the outbreak.
Features:
Show modeling tables and graphs of possible outcomes of a pandemic
Graph for modeling new infected cases and new deaths for the period of the pandemic
Graph for modeling total infected cases and total deaths for the period of the pandemic
Graph for modeling total population decline, over time
Graph for modeling total death count, over time
Table with detailed data on the ongoing of the pandemic (columns detailing: date, day count, new infected count, total infected count, new death count, total death count, population alive count)
You can set your own pandemic parameters, including: starting population, start date, initial infected count, immune and unkillable elite in bunkers, infection rate, incubation period, mortality rate, mortality complicator, disease burnout rate
Gutenberg blocks available
---
COVID-19 Awareness Plugins

The plugin adds a very simple, but easy to configure badge onto your website which can be used to update customers, businesses and suppliers with business updates throughout the COVID-19 (Coronavirus) outbreak.
---
This plugin adds a Coronavirus notice message to either the top, bottom, or inside the text on a website.
This free plugin allows website owners to quickly and easily add a notification banner about COVID-19.
Key features include, options for where to display notification (top, top static, bottom, bottom static, or inside your text using a shortcode). Additionally, the plugin offers a optional "read more" link to direct viewers to a web page with more information.
---
A very simple plugin that adds a highly customizable COVID-19 notice banner to the top or bottom of the WordPress website.
---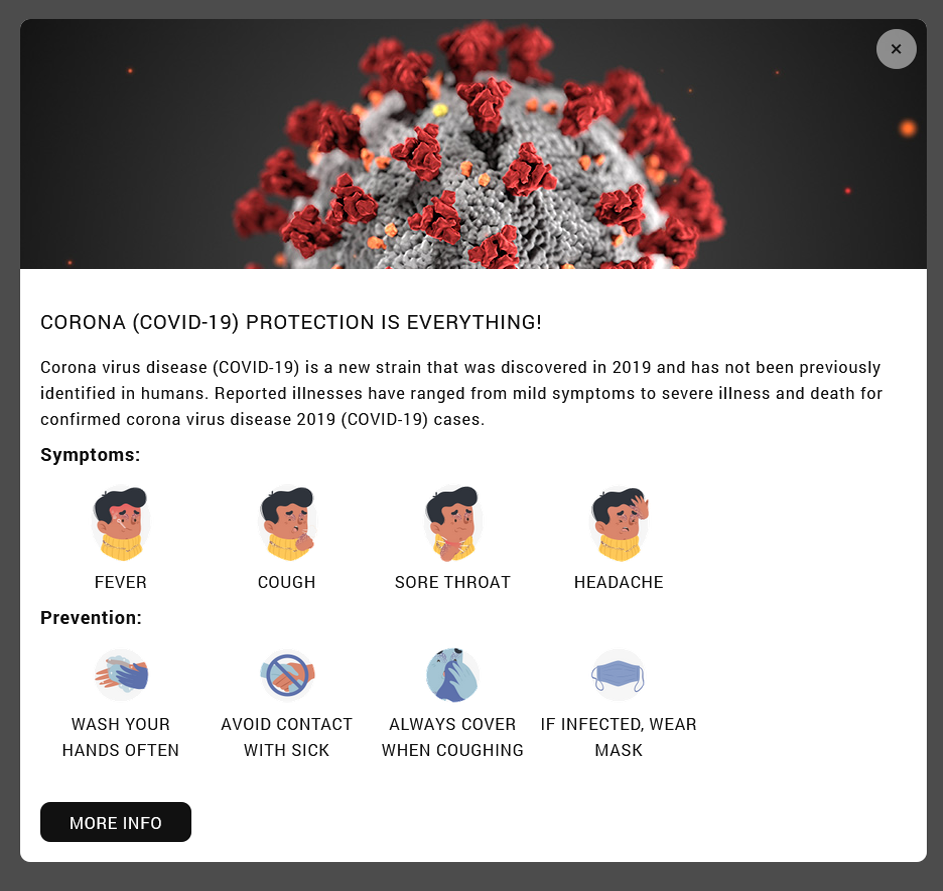 A really simple plugin used to raise awareness against the deadly Corona (COVID-19) virus spreading throughout the world.
You can show the information related to the symptoms of the disease, and the steps that can be taken to prevent it.
Additionally, a button link can also be added to direct users to the WHO website, or another post/page in the website itself.
---
Others:
The plugin adds new coronavirus-related structured data to your website for SEO.
---
More Resources:
Looking for more resources to create information content about Coronavirus Disease (COVID-19)? Here are a few resources you might find useful.