A fast user switching plugin for WordPress that allows admin to quickly switch between user accounts by clicking the desired username from a dropdown in the admin bar, without logging out/in.
By default, the plugin only allows admin to switch between users. You're allowed, however, to enable the Fast User Switching functionality for users you specify in the Settings.
How to use it:
1. Download the WP User Switch plugin and save the zip.
2. Unzip the plugin and upload the wp-user-switch to the Plugins directory.
3. Login to the admin panel and then enable the plugin.
4. You can also install & activate the plugin by uploading the plugin zip on the Add Plugins page.
5. After installation, you will find a new menu User Switch in the admin bar, hover over the menu and click the username from the dropdown. That's it.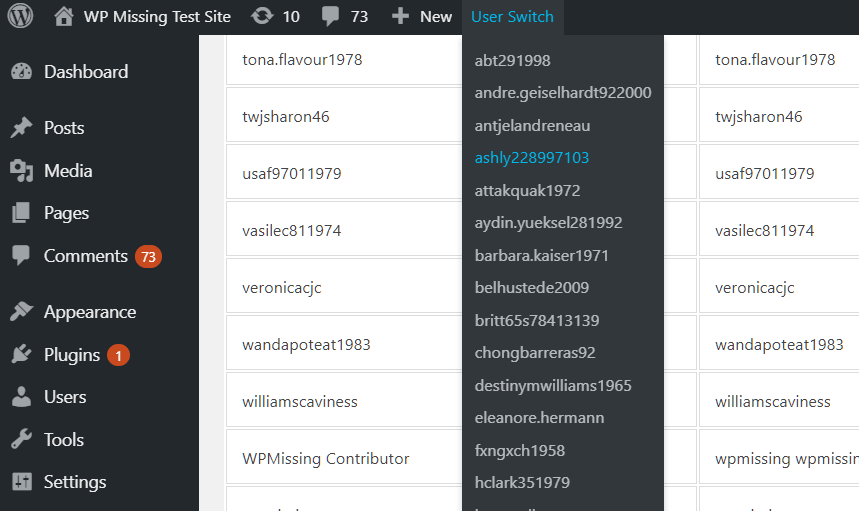 6. You can also switch between users on the plugin settings page as follows:
7. Enable the Fast User Switching functionality for specific users.
Download WordPress Plugin:
You can download this free WordPress plugin using the download button below. Unless otherwise stated, the WordPress plugin is available under GNU General Public License.
Author: IqbalRony
Homepage: https://wordpress.org/plugins/wp-user-switch/
Don't forget to share this WordPress plugin and also check out other awesome plugins on our site.